Judging Scratchfest
April 7, Wolfville, Nova Scotia
Pauline Raven described being a judge at Refresh's Scratchfest Sunday afternoon 2-4pm as: "an extraordinary joy!" She been a sponsor and supporter of Refresh since becoming a municipal councillor and sees is as: "Youth entrepreneurship at its very best."
Scratchfest is a competition but the children are encouraged to help one another throughout the weekend long programming camp... All the way from Friday night to Sunday afternoon. Pictured is Raven with children who placed first, second or third, as an individual or team.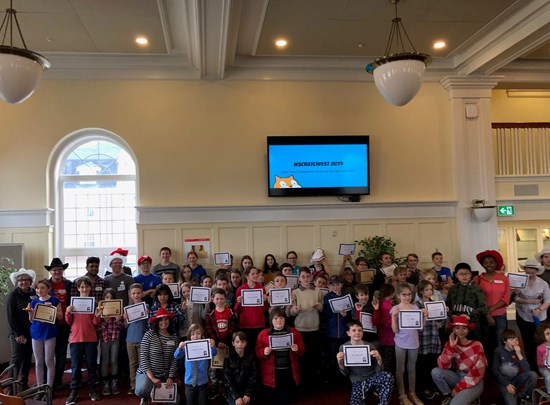 Raven said she meet: "a tribe of happy and engaged boys and girls who were obviously having a ton of fun collaborating on projects."
Wolfville's Mike Caplin was the project lead and, with his many helpers, he ensured the weekend rocked!
Kings County is fortunate to have such a stellar event totally organized by volunteers and supported by many sponsors.
According to organizers it was: "Refresh Annapolis Valley's biggest #ScratchFest computer science build-a-thon yet."
It brought children aged 8 to 17 years together... Original digital tech projects were built, in just over 26 hours.
Lots of muscles were flexed. Lots of prizes were won. Creativity bloomed. Friendships were strengthened.
Raven noted: "Eighty-five children competed with girls well represented and winning key prizes."