Meet Pauline Raven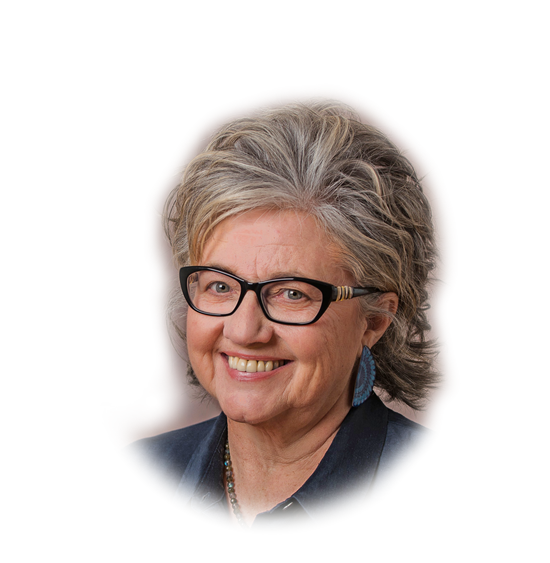 Pauline is a dedicated community leader with deep roots in Kings-Hants. Her work and volunteer experiences provide her with a broad understanding of our local economy and what it takes to help our communities succeed.
She has served as a municipal councillor in Kings County since 2012. Her interest in elected office began with a genuine concern for the preservation of farmland. This grew to include the broader, related issues of building and greening our local economy and helping community-based organizations thrive.
Pauline grew up in working-class Northern Ireland where she learned the value of hard work in her family's greengrocery business. She moved to Canada in 1973 as a landed immigrant and became a Canadian citizen in 1975. She and her husband Gerry Cudmore have lived in Kings County for more than 40 years.
When their sons, Dorion and Adam, entered school, Pauline went back to school too, earning honours and master's degrees (Psychology and Sociology) at Acadia and an Adult Learning Certificate at Dalhousie. She worked for many years as a senior administrator in women and children's health. Pauline has served on local, provincial, and national boards and consulted on multiple projects. She has an enduring interest in poverty reduction and helping families survive and thrive.

Pauline believes citizens have the right to a caring and accountable government. She feels she has the knowledge, experience and strength of principle to maintain and enhance the tradition of strong representation in parliament for the people of Kings-Hants.

She knows we need a strong voice in Parliament, one that will never stop working to build a better future for us all. A tireless representative for people, causes, and communities with a proven record, she will work to ensure that the residents of Kings-Hants are wholeheartedly served in Parliament.
CAREER HIGHLIGHTS
2017 - Appointed as a Justice of the Peace.

2016 - Elected for a second four-year term as a municipal councillor (Kings County).

2012 - Elected as a municipal councillor (Kings County).

2003-2011 - Independent contractor, research, communications, project management. Latest major project "Loving Care" series, Nova Scotia Department of Health's provincial publication for families with children aged 0-3 years.

1990-2003 - Administration, program development in the non-profit sector, including eight years at the Annapolis Valley-Hants Community Action Program for Children (CAP-C).

1975-1986 - Operated family business with husband Gerald Cudmore.

SAMPLES OF VOLUNTEER WORK
Campaign management for Kings North candidate Geof Turner (Liberal), Mayor Peter Muttart (Kings County Municipal Council), and former MLA Jim Morton (NDP).

Director of non-profit boards locally (Flower Cart), provincially (Chair, Canadian Centre for Policy Alternatives-NS); and nationally (Women's Legal Education Action Fund).

Research Associate Canadian Centre for Policy Alternatives.

Founding Member, No Farms No Food.

Raising funds for charities, most recently, Annapolis Valley Farmland Trust, Oxfam Canada, and Open Arms.
AWARDS
2009 - Spirit Award. Association of Fundraising Professionals Nova Scotia Chapter. Recognizes excellence by volunteer fundraisers in the Maritimes.

2002 - Queens Golden Jubilee Medal awarded by the Governor General of Canada for sustained contribution over and above what might reasonably be expected of paid employment or voluntary action.

2000 - Government of Canada Deputy Minister of Health's Annual Award for Team Excellence and Achievement. Given to one individual or team each year to mark extraordinary contribution to the health and well-being of Canadians.

1997 - Nova Scotia Community Action Program for Children Outstanding Leadership Award commemorating lobby efforts that eradicated a 51.9% cut ($200M) in annual federal funding to 365 family resource associations across Canada.
SAMPLE PUBLICATIONS
2006. Unfolding the Community Action Program for Children Experience in Cape Breton. Family Place, Sydney.
2005. If Spaces Could Talk: A decade of Progress with Vulnerable Families and Children in Atlantic Canada. Burin Peninsula Brighter Futures Inc.
2003. Linking Empowerment-Based Evaluation and Social Change: Family-Focused Research Using Community Development Strategies. In Making a Difference: Research and Families, Allen & Unwin.
2001. Politics and Practice of Empowerment Evaluation and Social Interventions. Canadian Journal of Program Evaluation.
1998. Role of Evaluators in Participatory Action Research. American Evaluation Association Conference. Chicago, Ill.
1999-2009. Nova Scotia Child Poverty Report Card. Canadian Centre for Policy Alternatives.

Editorials related to Poverty Initiatives and Women's Reproductive Health